---
Mount Pleasant Real Estate Market Update
As part of our job as Realtors, we regularly review the "state of the market" for Mount Pleasant real estate to be able to provide sound advice to our clients.
This chart shows the percent of sold/original price that homes are selling for in Mount Pleasant. It is interesting to observe that in the last three years, this percentage has flattened at around 97%, and it never reached the heights achieved back in 2006.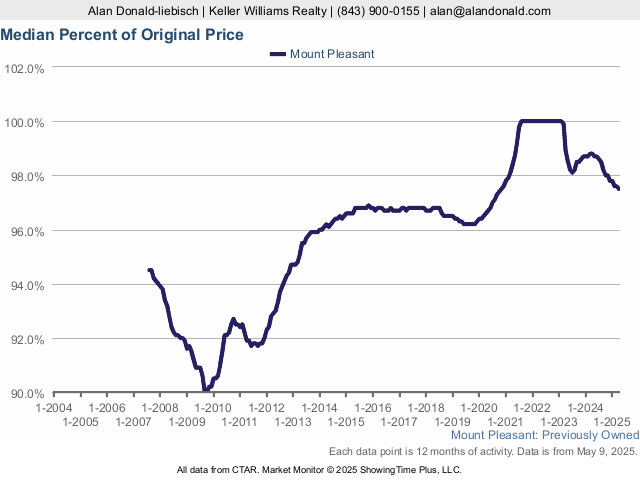 Mount Pleasant acts as the "weathervane" for the rest of the Charleston, SC metro area. All the trends seem to start here and they "filter down" to the rest of the areas, usually with a lag of 1-2 years.
Most major metro markets in the U.S. are experiencing a slowdown, especially in higher priced properties. Mount Pleasant is no exception. Homes priced above $600K are taking much longer to sell, and buyers seem to be "much pickier" than before.
The number of showings per listing in July 2018 increased by 1.7% in South Mt. Pleasant, and by 3.7% in North Mt. Pleasant, compared to July last year. Yet the number of closed sales dropped from 226 in July of 2017 to 208 this July (these two numbers have approximately a 2-month lag, but it is very unlikely we will see any marked increased activity at the end of this summer). The number of pending sales decreased by 1% from last year, and it is now very common to see price reduction alerts on the MLS "hot sheet" for Realtors.
All of these elements point to an impending market slowdown. As with any trends, a shifting market creates confusion and uncertainty. Sellers are still in denial, thinking they can price their home aggressively as they were able to 2 years ago. Conversely, buyers are feeling less pressured to buy, hence they are being more selective in their search and picky with the details, as they have become aware they now have more time to make a decision.
Overall, the number of sales has decreased slightly in the last two years (see graph - each point is a 12-month average), partly because of lack of inventory, and also because of buyer reticence.
What's next? At around 3.8 months' inventory, Mount Pleasant is technically in a "sellers' market", so in theory prices should still be increasing. But this is an unusual market that appears to be slowing down while prices ceased to increase DESPITE a shortage of inventory. The next few months will tell us a better story about the market.
Check our blog for future updates or call us at 843-900-0155 if we can help you sell or buy a home.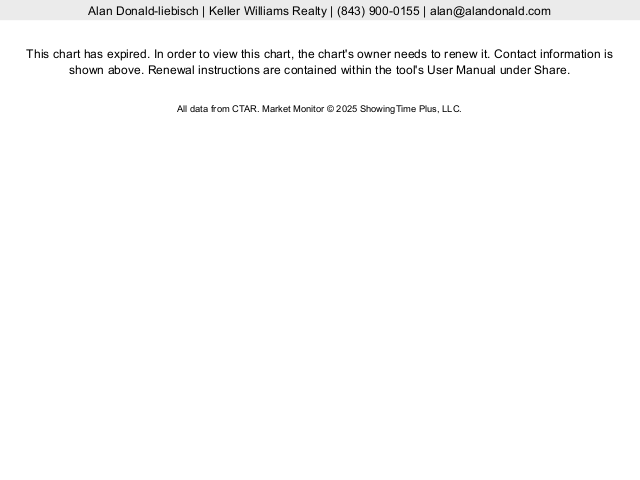 ---
---