Living in Mount Pleasant, SC
Mount Pleasant, SC was recently voted the Number 38 "Best City to Live in the United States" by 24/7 Wall St. This clean, safe and friendly residential community that forms part of the Charleston Metropolitan Area is not only a beautiful and charming city, but a very wealthy one. With a median income of $101,015, it towers over the state median income level of $49,501 making it one of 7 US cities with a higher median household income than that of the state. Mount Pleasant also has many nature parks, museums, and historical sites alongside the tourist destinations that Charleston (~5 min) has to offer. The south of Mount Pleasant SC is easily accessible to Downtown Charleston via the Arthur Ravenel Bridge and to Daniel Island via the Don N. Holt bridge right across the Wando River.
The City of Mount Pleasant has over 84,000 residents (according to the U.S. Census Bureau), a very strong school system (Charleston County) and a diversity of communities to offer in terms of size, age, price, uniformity, amenities, etc. Since the late 90's, Mt. Pleasant has experienced strong population growth. The town implemented a control in the number of new home application permits, which limited the supply of new homes so that they could catch up with the infrastructure development. This "artificial" limitation, coupled with the strong demand during the 2002-2006 boom, inflated home prices to the point that Mt. Pleasant became unaffordable for first-time home buyers. Given the market correction taking place since 2006, the Home Affordability Index (mean income vs. mean home price) for Mt. Pleasant is back at the level it was in 2000. The Mount Pleasant, SC housing market has recovered substantially. New construction projects are popping up all over town, buyer confidence has increased market activity, and inventory levels have decreased dramatically. We are currently in a "seller's market" with only 3.5 months inventory.
Want to learn the history of Mount Pleasant, SC? Watch this video, produced by the Town of Mount Pleasant:
Homes in Mount Pleasant
Mt. Pleasant offers a variety of neighborhoods and home styles that include small cottages, established, traditional homes, high-end "neoclassic" style homes and large, custom-built homes. Hwy 41 (connecting Mount Pleasant with Cainhoy) is generally considered the boundary between "inner" Mount Pleasant (i.e. closer to Downtown Charleston) and "outer" Mt. Pleasant. The following are some of the better known and most popular neighborhoods in Mount Pleasant:
Single Family Detached Homes in Mount Pleasant
Larger Neighborhoods
Belle Hall Plantation - Brickyard Plantation - Carolina Park - Charleston National - Darrell Creek - Dunes West - Hamlin Plantation - Hobcaw Creek Plantation - I'On Village - Ivy Hall - Longpoint - Molasses Creek - Oakhaven - Oyster Point - Park West - Ravens Run - Rivertowne - Seaside Farms - Snee Farm - The Groves
Smaller Neighborhoods
Back Bay Village - Bayview Acres - Carol Oaks - Commonwealth - Cooper Estates - Creekside - Grassy Creek - Heron Pointe - Hidden Cove - Hidden Lakes - Hobcaw - Horlbeck Creek - Laurel Grove - Old Mt. Pleasant - Old Village - Olde Park - Phillips Park - Planters Pointe - Pinckney Place - Point Pleasant - Shellpoint - Somerset - Wakendaw Lakes - Watermark - West Point - Yough Hall



Townhomes & Condominiums
Battery @ Park West - Beaumont - Belle Hall Gardens - Cambridge Lakes - Cambridge Commons @ Park West - Carol Oaks Townhomes - East Bridge Town Lofts - Eastwood Townhomes - Egret's Walk @ Dunes West - Ellington Woods @ Dunes West - Etiwan Pointe - Hamlin Park - Hampshire @ Park West - Heritage Village - Kensington @ Park West - Keswick @ Park West - Longrove at Seaside Farms - Madison at Park West - Madison at Hamlin Plantation - Marais @ Seaside Farms - Marsh Grass - Marsh Harbor - Montclair - Legends at Charleston National - One Belle Hall - One Hamlin Place - Palms Cove at Dunes West - Parish Place - Planters Place - Preston @ Park West - Remington Forest - Renaissance on Charleston Harbour - Retreat at Charleston National - Sandpiper Pointe - Shellmore Village - Simmons Pointe - Six-Fifty-Six Coleman - Snee Farm Lakes - Southampton Pointe - Tennyson Row @ Park West - The Heritage @ Dunes West - The Gates @ Dunes West - The Gates @ Park West - The Meridian - The Reserve at Charleston National - The Tides - The Village @ Carol Oaks - Ventura Villas @ Snee Farm - Village Creek - Waverly @ Hamlin Plantation

If you are from out of town, arranging a visit, and would like to view the area we would be more than happy to set you up with a member of our team to "show you the ropes". Mount Pleasant, SC has a lot to offer and is a wonderful place to call home!
Click the link above for more information on the Mount Pleasant, SC area including:
Median Home Price in Mount Pleasant, SC (Click image to view live chart)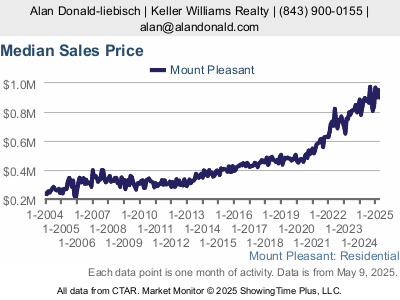 Want more detailed information? Call 843-900-155 or send us an email.
* Beat the competition! Get a FREE MLS VIP account to notify you automatically of any new listings that fit YOUR criteria.*


Modify Search Criteria
Displaying results 1-9 of 437