---
Charleston, SC Residential Real Estate Market Update - June 1, 2020
Buyer Demand
Demand for homes in January and February 2020 was up by 13% compared to last year's numbers, but in March and April demand dropped by 25% due to the COVID crisis. However, in May the market rebounded resoundingly, producing 4 RECORD-BREAKING WEEKS in activity, restoring demand up 12% from last year's numbers. See the "spike" in demand on the chart below.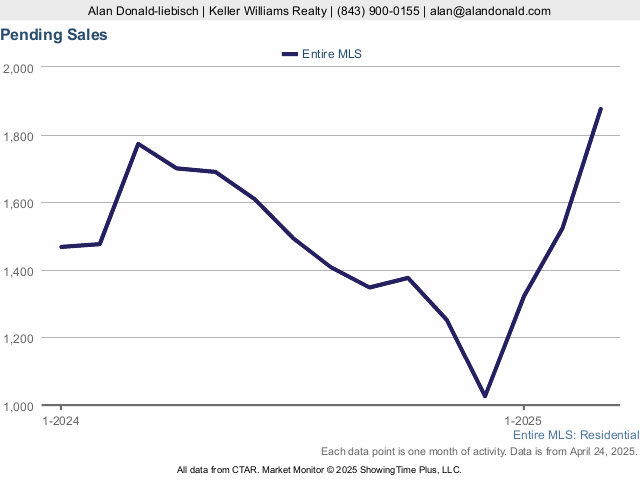 Supply of Homes

The number of homes ON THE MARKET (market inventory) has been reduced from ~ 6300 a year ago, to ~ 4500 today (May 30, 2020).
Months of Inventory
The Months of Inventory (MOI) index shows that the relationship between supply and demand remains steady, and is trending downward.
We use the MOI to determine whether a market is over-supplied, balanced or under-supplied. A 6-month inventory is considered to be a "balanced" market, where the same number of homes come on the market as are sold during the month, and no one (sellers or buyers) has the advantage.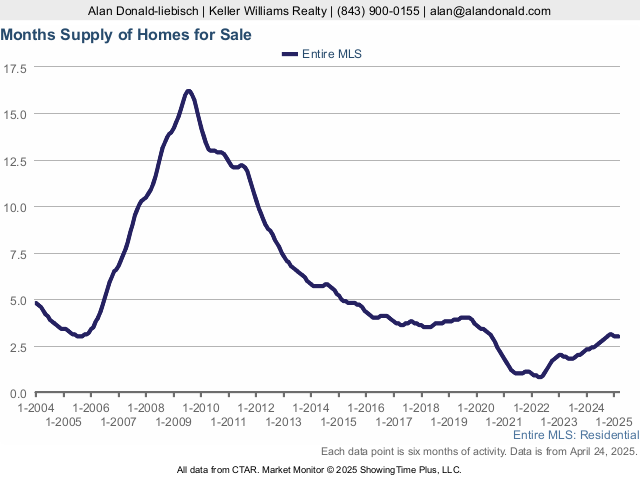 If we look back at the 2005 boom, we will see that we were at 3 months of inventory, and it was a "hot seller's market" then. Right now (June 1,2020) we are sitting at 3.2 months of inventory for the whole Charleston Area, which is a clear "sellers' market" ("under-supplied"). However, some areas in the Charleston Metro are behaving slightly differently (some higher priced areas like Downtown Historic Charleston and Isle of Palms are still "over-supplied").
Median Home Prices
With high demand and low supply, it is no surprise that the median home prices keep going up.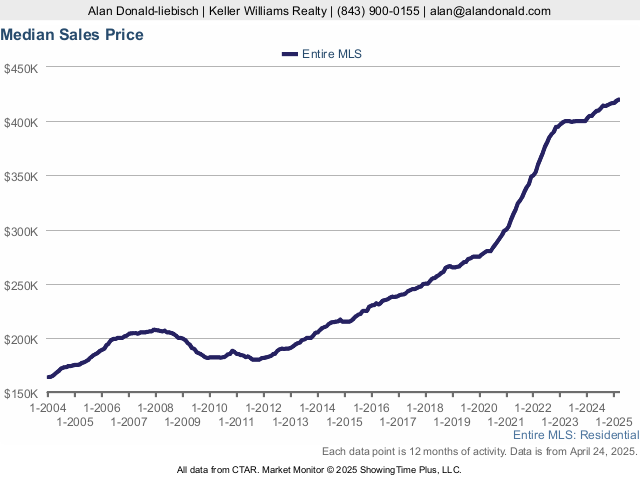 The Median Home Price (12-month moving average, all types of homes) is at $283K, up by 4.8% year-over-year.
For single family, detached homes, median sales price is $300K, up from $289K at the same time last year.
For townhomes and condos, the median price is up to $217K, up from $200K the year before.
Mortgage Rates
Part of this high demand has been fueled by low mortgage interest rates.
This week the 30-year fixed-rate mortgage rate hit HISTORICAL LOWS as can be seen in this graph produced by Freddie Mac.
Conclusions
We can draw some conclusions from these numbers:
If you are a BUYER
Act now! Affordability is very high with incredibly low interest rates, which have a large effect on your monthly payment.
Many listings now have videos and 3D Virtual Tours to minimize in-person exposure. You can comfortably browse through 15 or 20 listings online and the only go look at 1 or 2 SHORT-LISTED homes in person.
Be prepared for a COMPETITIVE market situation. It can take a few failed offers before you get the home you want. There are many buyers competing for a few listings.
VIRTUAL SHOWINGS, VIRTUAL BUYER CONSULTATIONS, e-SIGNATURE of documents and REMOTE CLOSINGS facilitate the process and provide SAFE ways of buying a home.
If you are a SELLER
Current market conditions (low inventory, high demand, low interest rates, re-opening "euphoria") are IDEAL to sell quickly (with minimum exposure) and for a top market price.
Demand may stifle when stimulus checks run out at the end of July. The market "sentiment" may change suddenly, and demand is driven in part by the "feeling" of the market and buyer confidence.
Inventory (competition) may increase when public awareness "catches up" with reality. The Post & Courier reported this week that home sales are down by 21% in South Carolina and by 10% in Charleston. However, those numbers are taken from what happened 2 and 3 months ago! When they report the closings from all the homes that have gone under contract in May, they will say the real estate market had a swift recovery and many sellers who are sitting on the fence will probably list their homes, thereby increasing the inventory. The media is behind the facts.
If you are an INVESTOR
This may be the ideal time to SELL older, depreciated properties and PURCHASE new ones at very low interest rates for a positive cash flow.
Real Estate is a less volatile investment than stocks or commodities. In three of the last five recessions, real estate prices went up!
Use a 1031 "Like-kind" exchange to defer capital gains tax.
Switch from commercial office to residential to prevent higher vacancies. Everyone needs a roof over their head. However, many companies have realized that many employees are as productive working from home, and will realize they don't need as much office space. We believe that demand for office space will decrease in the near future.
Overall, the economic fundamentals and "big-picture" factors for Charleston, SC remain strong, and Charleston residential real estate is likely to outperform other areas of the country.
If you have any questions or wish to buy, sell or invest in real estate, please book a virtual appointment with us right now at: https://bit.ly/BUYSELLVIRTUAL.
Or call/text us at 843-900-0155.
---
---