---
Those of us who have been in this industry for a long time have seen the signs of a market shift coming to our local market for a few months now. But the indicators can be confusing.
Let's take home prices; Home prices in South Mount Pleasant (29464) have been pretty flat for the last 12 months. And in the last 3 months prices have softened a little, perhaps when sellers who wanted to sell in early summer panicked and lowered their price expectations to get a buyer before the end of the summer.
The graph below shows the median sales price for single family, detached homes in zip 29464 (12-month moving average).
Although us Realtors do not have a great confidence in the ZEstimate(R) value estimation (because of it being sometimes unreliable and not having the latest sales), Zillow(R) is actually very useful to spot longer-term trends. Here is what Zillow(R) predicts for home prices in 29464 - a 0.6% price DECREASE in the next 12 months.
What's unusual about this market is that we are still in an under-supplied market. The chart below shows the Months of Supply for 29464, which shows that our market is currently at 4.2 months of inventory, which we still consider a "seller's market" (6 months of inventory is considered a "neutral" or "balanced" market). However, in a "seller's market" home prices are supposed to rise - and yet they are stagnant or falling! This represents a temporary "aberration" that our shifting market is presenting, while a new trend consolidates. No wonder buyers and sellers are confused!
However "timing the market" in real estate is almost as challenging as timing the stock market. We recommend that our clients avoid treating their property as a short-term wealth-making vehicle, and rather focus on the medium and long-term trends for an appreciating asset. The average home appreciation in the U.S. for the last 50 years has been between 3%-4%.
To get a more accurate picture of the market in YOUR neighborhood or Zip Code, call/text 843-900-0155 or fill out this online form:
View ALL HOMES for sale in Mount Pleasant South (Zip 29464)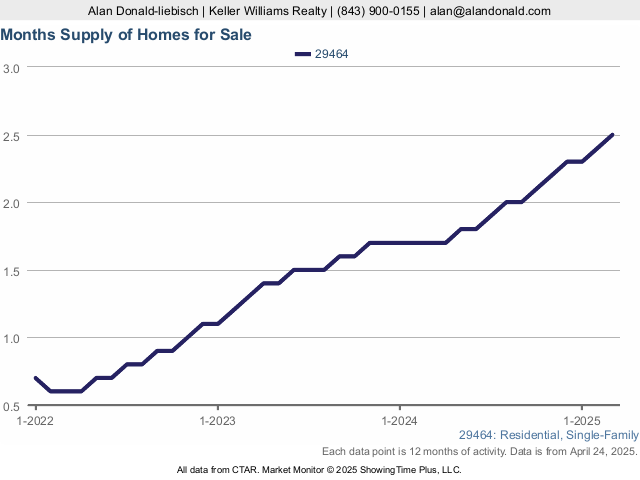 ---
---