---
Charleston, SC Real Estate - December 2016 Update
The Charleston real estate market continues to do extremely well and reflects the strong state of the overall economy here.
We are up 10% year-to-date in the number of transactions and we may sell over 17,000 homes this year. It will either be the busiest or the second busiest year ever.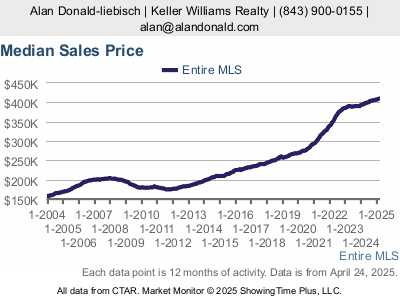 Median sales price is up almost 5% to $244,000 (see chart). Forty percent of the properties currently under contract are new construction. And this new construction is spread out over the entire Tri-County area - from Summerville to Johns Island and from Mt Pleasant to rural West Ashley.
The Volvo plant has brought several new subdivisions to the Summerville/Goose Creek area (Nexton, Carnes, Cane Bay) and a new interchange on I- 26 is being added. Boeing is continuing to expand and seems doing well here. Some people are just beginning to figure out that they call us Silicon Harbor because there are so many software and digital IT companies here.
New restaurants and breweries continue to open daily and the cruise ships continue to bring new tourists into town.
---
---